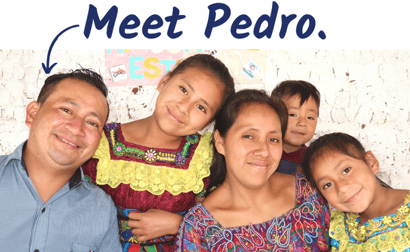 As a child, he always wanted to study, but instead of going to school, he had to sell firewood with his father. He says,
"Sometimes when I was little I cried because I felt like I would never be able to learn and never be able to be someone in life".
Pedro never learned how to read or write. He always wanted to be a businessman, someone important and respected.
So, when he was old enough, he went into town and got a job at a store. He was excited to be able to work for a real business. However, on a day that his supervisor was not in, a customer asked him to fill out an invoice. Since Pedro never had the opportunity to learn how to read or write, he filled the invoice out the best he could. Unfortunately, he filled it out wrong and was fired.
Pedro returned to working in agriculture in his community. Although he tried, he could never enroll in classes because he was either too old for his learning level or the fees were too expensive.
Time passed, Pedro remained frustrated but continued working. He got married and had three children.
Pedro is committed to giving his children a better life and an education. Sometimes his daughters come home from school and ask him for help with their homework, but he feels ashamed telling them why he can't help.
This year, Pedro's life changed and his dream came true! He explains,
"Nazario, School the World's Alternative Education Leader, came to our community and offered the opportunity to study, no matter your age! I never though that this was possible because I need to work during the week to support my family. However, Nazario explained that there is a program, that I can participate in on the weekends with other students! It was a miracle for me. I cried, I was so happy. Now, I can study with my daughters and our family will be better for it! I can now help my daughters with their homework and feel empowered!"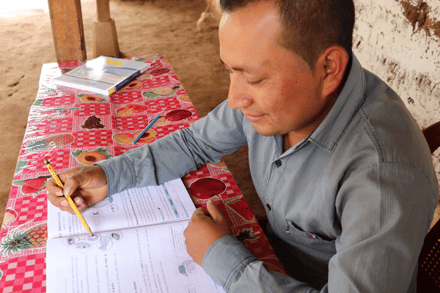 Pedro has now been in the Alternative Learning CEEX Program for a couple of months and attends every School the World Workshop. He says
"I have already learned how to form words, sentences and how to add and subtract numbers! I already feel so much smarter and I am determined to graduate from this program and get a better job for my family. I know that this will inspire my children to keep studying and show them that no matter how old you are, it is never too late to learn!"

This Father's Day, support fathers living in rural extreme poverty, like Pedro, who would do anything to give their children a better life. A gift of $25 could change everything for a dad and his children. Donate today.

Your honoree will receive a beautiful e-card acknowledging your gift and parents in rural Central America will receive Empowerment Trainings on their rights to their child's education and how to set their children up for success in the classroom and beyond! Some could even enroll in our Alternative Learning Program like Pedro!