We celebrate teachers all year round. But today, on National Teacher Day, we celebrate one of our stars.
Monica teaches in the remote village of Chitucur in the Western Highlands of Guatemala. She is the principal the K-6 public school, funded by School the World Service Learning Program.
In April 2015, 13 students from Bethesda, MA and Chicago, IL schools traveled to build and donate a new school building to Monica and her students.
"The students are so much happier now. The weather-[many Guatemalan students attend schools with dirt floors during the mud and rain season] really affected them at the old school. Every day they tell me how much they love their new classrooms and are so excited to learn."
But that's not all…Monica has high hopes for her students, and their parents.
"I hope that the students' mindset is forever changed and continues to be the more they attend schooling and understand what the future can hold. As for the parents, that they have a new outlook on life in general and can now see that everything is possible instead of impossible."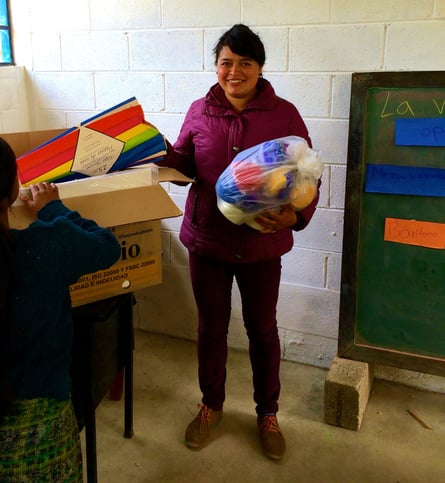 Monica has been a teacher for five years, spending her last two at Chitucur. She didn't always want to be a teacher, but now, she says, she is in love.
"This students' enthusiasm makes up for any frustrations that I encounter with the other aspects of my position. I love the students of Chitucur."
One of the School the World programs she's most excited for is teacher training. "When you become a teacher you will always know how to teach, but it is important to learn new techniques." During her two years at advanced teaching courses at Rafael Landivar University, she hopes to improve her lessons and overall teaching ability for her students.
Like many teachers all over the world, Monica struggles with a lack of resources, often using her personal income to supplement necessary school supplies that the administration can't provide for her. Monica is just one of so many STW teachers struggling to give their students a better education. It starts with a safe, bright learning environment, but School the World continues to help teachers via advocacy, training, parent support and school supplies. Teachers everywhere know these are essential to creating a positive and successful learning environment. Celebrate the special teacher in your life today. Show your support by supporting teachers everywhere.