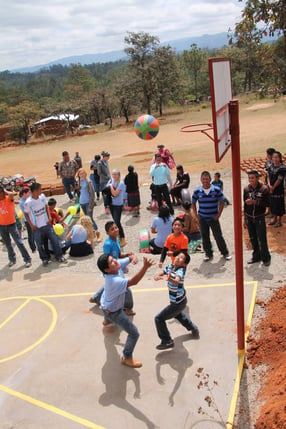 "They [were] kicking the boys off the basketball court to play themselves. It was one of the most unbelievable things I have ever seen…"

Maggie Keary, junior
In 2014, 30 students from Lauralton Hall, all-girls high school in in Milford, Connecticut, traveled to Guatemala to build two schools they had donated to impoverished Mayan villages. These schools were just the beginning, over the past year, the two schools, in the villages of Choacan and El Durazno, near Santa Cruz del Quiche, have began parent and teacher training to improve the level of education their children receive.
This past February, 11 of those students returned to Guatemala on a new mission: play. As part of STW's new play initiative, students funded and built a playground for the El Durazno school for teachers to use as learning tool sin gender equality, conflict resolution, leadership, teamwork and more life skills.
Everyone in the village, even the American students, couldn't keep from playing on the colorful swing sets, see-saws, toys and small basketball court in the play space. But what shocked the Lauralton girls was the village mothers.
"Young mothers were handing off babies to jump in the game!"

Christine Miller, social students teacher
Throughout the week, returning students had noticed a shift in the women they thought they had gotten to know the previous year. Mothers of the village were open and expressive, compared to the shy, reserved traits they had shown before. Students from Lauralton Hall were amazed difference one year could make.
"Some of them even took it upon themselves to help us work, which was awesome. This great undertaking showed strength and confidence, and seeing such mental improvements made me really happy."

Emma Taylor, junior
"It was amazing to see them take interest in what we were doing—we even got one of the moms to help shovel gravel which was incredible and would not have happened last year!"

Maggie Sullivan, junior
"I would have to say that the women in El Durazno are what had changed the most. Last year they were watching us, almost unsure, nervous to see foreigners come in and play with their children. But this year was completely different. They learned over the course of the year what an impact the school we built had on their community and they finally opened up to us."

Maggie Keary
El Durazno is a prime example of why we do what we do. In just one year hundreds of lives were changed. Children are attending classes and staying in school; mothers are breaking the mold and becoming independent. The community is flourishing. Education is the answer.
"The introduction of a school in El Durazno not only encouraged the people in the community to continue to grow and develiio, it also opened up doors and opportunities that had previously been closed."

Christine Miller
"I am so glad that I was able to help kickstart all of these great qualities by simply building a school."

Emma Taylor