Congratulations to Isabel Garcia Lopez
School the World's youngest and most recent World Changer award recipient.
On June 7, seven-year-old Isabel Garcia Lopez was honored at STW's 4th Annual DC Fundraiser. Isabel raised over $500 at her second annual Lemonade Stand.
Isabel ran her first School the World Lemonade Stand on her birthday in 2013. At last year's fundraiser, upon presenting School the World with her donation, Isabel attempted to further encourage attendees by grabbing the microphone to speak to the crowd before her aunt whisked her away to celebrate. It is enthusiastic individuals like Isabel that support STW's vision.
Isabel spent her second year running a lemonade stand to benefit School the World in the Capitol Crescent Trail area of Washington DC. She even inspired some passersby to further research STW and the donate to our cause the following day. This warmth from someone who believes in the basic right to education proves how the will to help other is contagious.
Isabel knows that the best gift is not one wrapped and handed to you but something you work for. We hope Isabel's continuous contributions inspires a new generation of School the World supporters.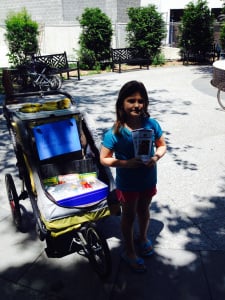 [feather_share]